Incident Aware
A Powerful Incident Tracking & Broadcast App
Incident Aware is an innovative, easy to use app that opens up important communication channels so you can exchange critical emergency information, alerts or simple daily broadcast notices with the people who matter, quickly and easily.
Say goodbye to old clumsy, time consuming and involved processes to exchange that information.
More Info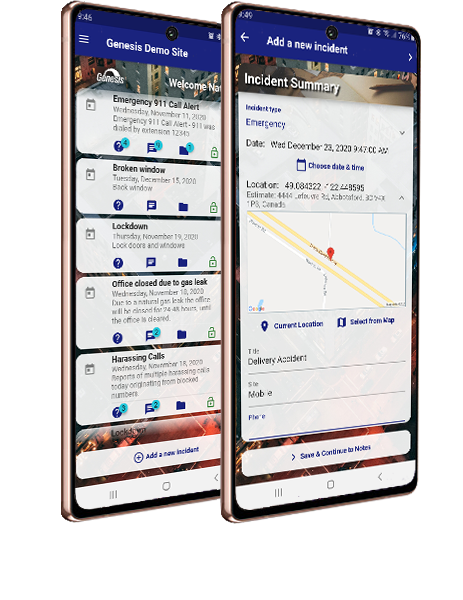 Incident Aware
Your complete solution.
Incident Aware empowers you by becoming your eyes and ears when managing those important situations. A two way exchange of information and media with historical tracking gives you the power you need with today's information based world. Enhance that with GPS tracking and you can zero in on the actual the locations when needed.
Incident Aware, it's everywhere you can't be.
Read More
Instant On-Site Emergency Alerting
Alert selected groups or notify all staff members of on-site emergencies and the specific procedures they should follow.
Easy Mass Notifications
Quickly distribute info about closures, lockdowns, bulletins or special events via app messages, emails or SMS to targeted users.
Simplified Incident Reporting
Use intuitive incident guides for recording those critical details as they happen while the facts are still clear.
Powerful Incident Collaboration
Allow real-time exchange of notes, chats and multimedia specific to each alert or incident.
GPS Tracking
Automatically Track users as they move within your organization and take action based on where they are located.
Comprehensive Record Management
Retain and archive critical incident information indefinitely for any future reference or legal requirements.
Consistent, easy to use interface


Android & iOS Supported
Incident Aware is available on all Major Platforms
Incident Aware has been designed to provide a consistent user experience, regardless of whether your organization uses Apple or Andriod smartphones, tablets or an assortment of both.